WomanKraft Art Center  presents SPINES N' THINGS 388 S. Stone Avenue

SPINES N' THINGS
June 6th – July 25th, 2015
Receptions: Saturday, June 6 and Saturday, July 11 7:00-10:00 P.M.
Regular Gallery Hours: Wednesday Through Saturday 1:00-5:00 P.M.
WomanKraft Art Center, 388 s. Stone Avenue, invites you to the exhibit, SPINES N' THINGS!
This show will focus on the 'point' of the desert. Yes, cactus spines. This is a chance to showcase the prickly beauty that goes hand-in-hand with this amazing place. All mediums accepted. Everyone is encouraged to see this exhibit, it's free!
The next evening reception will be held, July 11th
from 7:00-10:00 PM.
Please Note: This is the only exception to our Receptions always being the First Saturday of the Month. However, the first Saturday of July is the Fourth of July so enjoy some fireworks and come see us the following Saturday, July 11!!

Regular gallery hours are Wednesday through Saturday, 1:00-5:00 P.M.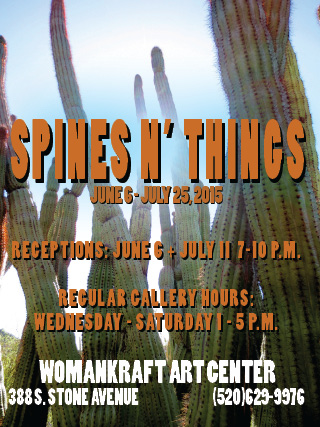 See a SNEAK PEAK of the Show by clicking here, or on the images.
Next up  on the line of events at WomanKraft,
Join WomanKraft for our largest and most anticipated fundraiser,
bi-annual RUMMAGE FAIR!!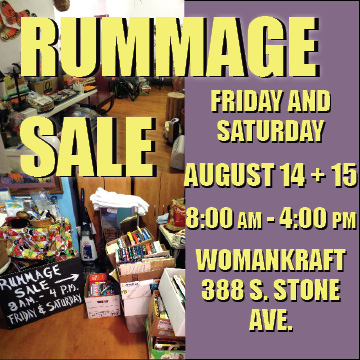 Where: 388 south Stone Avenue – just 4 blocks south of Broadway
When: Friday and Saturday, August 14 and 15, 8 A.M.–4 P.M.
Art supplies, kitchen stuff, knick-knacks, books, clothes, tools, toys, movies, all you can think of and more! We are also seeking volunteers for set up Wednesday, August 12 from 1-5 PM and Thursday, August 13, 10 AM until it's done.
The fair will run Friday and Saturday, August 14 and 15 from 8 A.M. to 4 P.M.
NO EARLY BIRDS. After setting up and selling for 4 days, we really could use some fresh help boxing and loading everything, we start at 4:01 Saturday afternoon. Call or talk with us in person to schedule your participation. (520) 629-9976. Thanks!
See the current exhibit another time, Saturday July 11th from 7-10 PM and every week Wednesday – Saturday 1:00 – 5:00 PM at 388 S. Stone Avenue. See you there!