WomanKraft is most pleased to announce and present
The 28th Annual Holiday Bazaar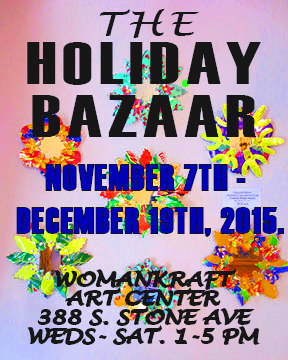 The WomanKraft Art Center gallery opens with a new exhibit Saturday, November 7th from 7-10 PM.
This Exhibit, THE HOLIDAY BAZAAR runs November 7th through December 19th
open weekly Wednesday – Saturday 1 – 5 PM
with Evening Receptions the first Saturday of the Month, November 7th and December 5th, 7-10 PM.
In the spirit of the Holidays and seasonal festivities, this exhibit is specifically curated to combine a unique mix of fine art and crafts all created by local artists. Everything in this exhibit will retail for $100 or less. This is specific to the idea that gift giving for your holidays should be personal, unique and affordable.
What are you doing the day after Thanksgiving? What almost rhymes with turkey..? KARAOKE! And GREEN FRIDAY! NOVEMBER 27TH
At the WomanKraft Art Center, it's a multi-event celebration on "Green Friday!" instead of fighting the crowds out during Black Friday, stop in at the WomanKraft Art Center and support local artists, our non-profit art center, and the Tucson Community Food bank – when you bring in 2 or more cans of non-perishable food items take 10% off your purchases in the gallery. This includes classes and workshops!
LATER THAT NIGHT… Come back for Karaoke Night! WomanKraft will be hosting Karaoke on Saturday, November 27 from 7 to 10 P.M. This all ages rock and roll (and sometimes slow jams) showdown is fun for everyone, whether you brave the stage or sit back and enjoy the entertainment. The Holiday Bazaar, our current exhibit, will be gracing the walls of this event, more than worth the trip! 388 S. Stone Avenue    Tickets: $5 non-members, $3 WomanKraft Members.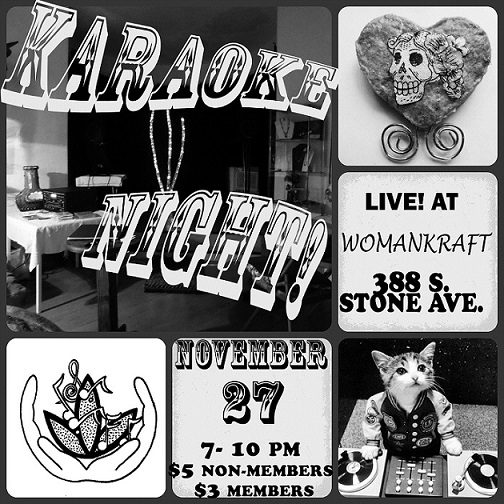 Tickets: $5 non-members, $3 WomanKraft Members.
See the current exhibit another time, every week Wednesday – Saturday 1:00 – 5:00 PM , Or for another special event evening, join us for the Saturday, December 5th gallery reception from 7-10 PM, our building's birthday celebration and award winning local author book signing, oh my! For further details and information., visit our website at www.womankraft.org or have questions? Call us at (520) 629-9976.
Better yet, why don't you come on in person to see the gallery?
We are open Wednesday – Saturday 1:00-5:00 P.M.
388 s. Stone Avenue Tucson, AZ 85701.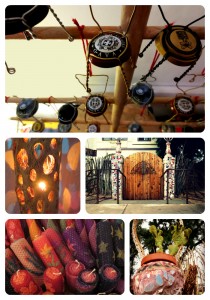 Then, during our 2nd Evening Reception on Saturday, December 5th WomanKraft will be hosting a book signing by local award winning author Lonni Lees! Ms Lees is a long time WomanKraft member, and her published books include: The Mosaic Murder, The Corpse in the Cactus, Deranged, a novel of horror, Crawlspace and Other Dark Stories. Meet, mingle, pick up a copy of her book and have it signed. Who knows, you might just find the perfect gift for everyone on your list!
THEN THE FOLLOWING WEEKEND…
Santa Claus is coming to…WomanKraft!!Friday, December 11th, 3-5 PM
Bring along your camera, your children, or the child within because Santa will be here to listen to your Holiday wishes and spread his Holiday cheer. Treats and drinks provided. Free.