WomanKraft is delighted to host her 22nd Annual Women's Only Exhibit, Drawing Down the Muse.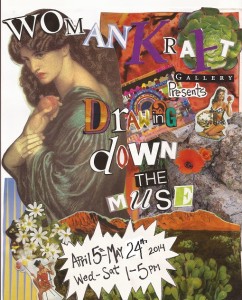 Join us this Saturday, April 5th for a spectacular reception from 7 to10 P.M.
Come mingle with the artists, enjoy delicious organic and homemade treats, and stroll our gallery while we feature work by many talented local women artists including Hand-Painted frames by Patty Lyons, Collages by Lonni Lees, Oil and Pastels by Laura Leighton,  Mosaics by Linda K., Fused Glass by Diane C. Taylor, and many more.
We look forward to seeing you this weekend!