WomanKraft  has an all new exhibit 

currently on display,
'BLACK AND WHITE AND SHADES OF GREY'
Smoke Studies by Kristen Gautier-Downes
Candle Votives by Gayle Swanbeck
Frida Shadowbox by Zoe Rhyne
The absence of color, unrestricted in media.
This new exhibit features work by local artists, and it's open June 3rd – July 29th.
Evening Reception for 'Black and White and Shades of Grey' Saturday, July 1st, from 7-1o PM
388 S. Stone Ave. Tucson, Arizona, just 4 block South of Broadway Blvd. WomanKraft Art Center
The reception will be held from

7-10 PM

, and then the gallery is open every

Wednesday

–

Saturday

, from

1-5 PM

..
Serpent God by Tony Di Angelis
Recycled Metal Work by Josh Smith
'Black and White and Shade of Grey'


June 3rd – July 29, 2017

.
Opening Reception the first

Saturday

of this month,


June 3rd

, and July 1st, from

7-10 pm

. 
WomanKraft Art Center 388 S. Stone Avenue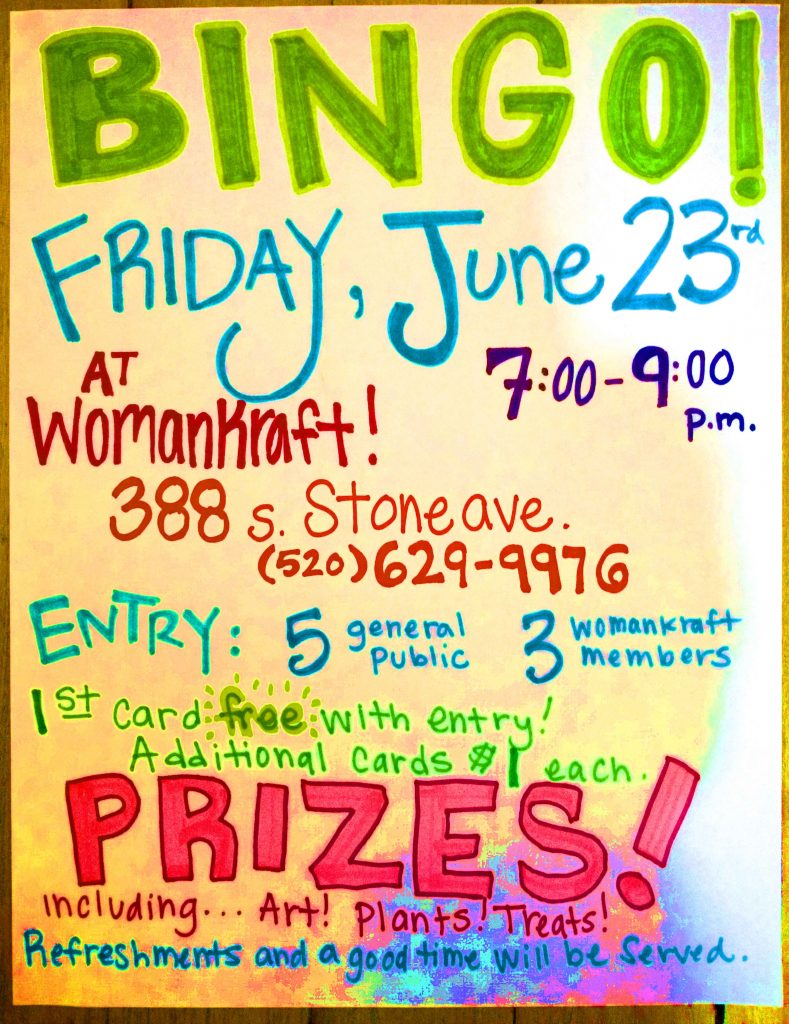 Summer is HERE and it's BINGO TIME!
Join us for a nice, refreshing, air-conditioned evening of fun!
Entry is $5 General public, $3 WomanKraft members
Friday, June 23rd, 7:00 – 9:00 pm
With your entry price you get your 1st Bingo card. Additional cards are $1 each!
Traditionally some bingo games have one big prize jackpot, but we are looking to spread the win! We will be playing multiple rounds of bingo with multiple winners.
Prizes include plants, art, delicious homemade treats… and more!
Come try your luck, in a relaxed, fun and art-filled atmosphere. Enjoy an evening where you can help support your favorite non-profit! We can't guarantee you a win, but we can guarantee you a good time! Refreshments will be served.
Wyatt Anthony Memorial
WomanKraft mourns the death of longtime member Wyatt Anthony. While not a founder, Wyatt was one of our earliest members and always a supporter. A talented photographer, she studied with Jack Welpott in San Francisco and Lou Bernal in Tucson, participating in solo and group shows in Arizona and the Bay Area, including a solo show "Total Immersion" at the UA in 1976, She served as media coordinator for the Tucson Rape Crisis Center and the Tucson Center for Women and Children, also serving as photo-documentation technician for the Community Artists Project. She coordinated several film festivals including one for the Tucson Women's Cable Consortium. For many years she worked at Casa Video, sharing her love and knowledge of film.
Wyatt was an animal rights activist and worked on several political campaigns including those of Meredith Little, Carmine Cardamone, and John Kromko.
WomanKraft will include a selection of Wyatt's images in the June/July/ exhibit 'Black and White and Shades of Grey' .
A celebration of her life will be held at WomanKraft on Sunday, July 9 from 1- 4pm. There will be an open mic for friends to share adventures with Wyatt and a selection of her favorite snacks and beverages together with a chance to view more of her images.