BINGO Night!
Friday in the gallery!
WomanKraft's latest and greatest fundraiser, emphasis on fun, is Bingo Night!
Entry fee is  $5 for non-members, $3 for members. And it only get's better from there! Each additional card is only $1, Bingo is a chance to have fun, support WomanKraft, and walk away with some cool prizes including art, plants, gift certificates, homemade edible goodies, jewelry, candles, magnets… and more!. And who knows, you might even see something on the walls that you just can't live without!
If you haven't BIN…
You should GO!
Friday, April 27th, 7-9 PM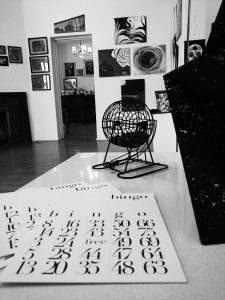 Bingo Night in the Gallery
Friday, April 27th from
7-9pm for BINGO NIGHT!!
Hosted in the gallery, where "Drawing Down the Muse" is currently on display.
388 S. Stone Ave. Tucson, Arizona, (just 4 blocks South of Broadway Blvd.)
Entry is $5 General public, $3 WomanKraft members.
With your entry price you get your 1st Bingo card. Additional cards are $1 each!
Call (520)629-9976 for additional information
Regular Gallery Hours: Every Wednesday through Saturday, 1:00 – 5:00 PM.
Free and open to the public.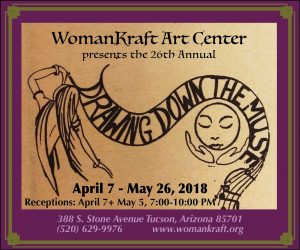 Our current exhibit,
"Drawing Down the Muse"
is featuring over 25 local female artists
April 7th – May 26th, 2018
Upcoming Evening Reception: May 5th, 7:00-10:00 pm
388 S. Stone Avenue.
Regular Gallery hours: Wednesday through Saturday, 1:00-5:00pm.
Our 26th Annual women's only exhibit by and for local women artists. Come and join us in the celebration of our divine feminine power. All mediums and subject matter accepted.
388 S. Stone Ave. Tucson, AZ 85701
(520) 629-9976 www.womankraft.org
THE CASTLE VOICE IS HERE! 
Click right here to get your very own digital version! Otherwise, your snail mail version is on its way 🙂