'Drawing Down the Muse' 
WomanKraft Art Center, is proud to invite you to the
second reception of 'Drawing Down the Muse'
This is our 25th annual women's only exhibit by and for local women artists. With 29 artists on display, this reception provides an opportunity for everyone to celebrate our divine feminine power.
Second Reception: Saturday, May 6th, 7-10 PM.
Gallery Hours: Wednesday – Saturday 1:00-5:00 PM, Free.
WomanKraft Art Center. 388 S. Stone Avenue 629-9976 womankraft.org Free!
The Gallery
is located at 388 S. Stone Avenue Tucson, AZ 85701, just 4 blocks South of Broadway Blvd and Stone Avenue or "city center". 
This exhibit is free
of charge, and open to the public. Visit during regular hours: every
Wednesday
–
Saturday
from 
1:00 – 5:00 PM
. Everyone is welcome.
CALL TO ARTISTS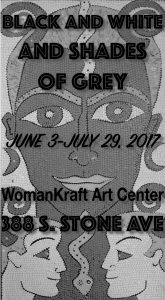 "Black and White and Shades of Grey"
WomanKraft presents an all new exhibit featuring work exploring the absence of color. Charcoal, Photography, scratch art… the possibilities are endless.
We are seeking any and all mediums and subject matter,
as long as it's in Black and White!  
Deadline for submissions:

May 27, 2017

 
Are you an artist interested in exhibiting with WomanKraft?
Call 629-9976 ext. 3
for appointments with Director of Exhibits, Zoe Rhyne