This Saturday is the opening reception for an all new exhibit at the WomanKraft Art Center, THE HOLIDAY BAZAAR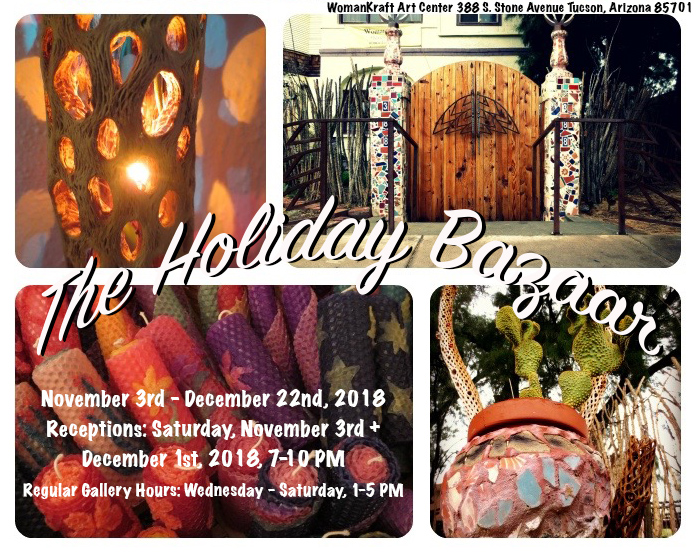 The WomanKraft Art Center is proud to announce the 31st Annual "HOLIDAY BAZAAR". A Tucson tradition, this art exhibit features work by local artists in a variety of media and subject matter, all with affordability in mind, all work for sale retailing for $100 or less..
Evening Reception this Saturday.
Join us for an opening evening reception celebration on Saturday, November 3rd, from 7-10 PM.Free and open to the public, refreshments will be served.
Evening Reception for "The Holiday Bazaar"
@ WomanKraft, 388 S. Stone Ave. Tucson, AZ 85701
7:00-10:00 PM. Free and open to the public.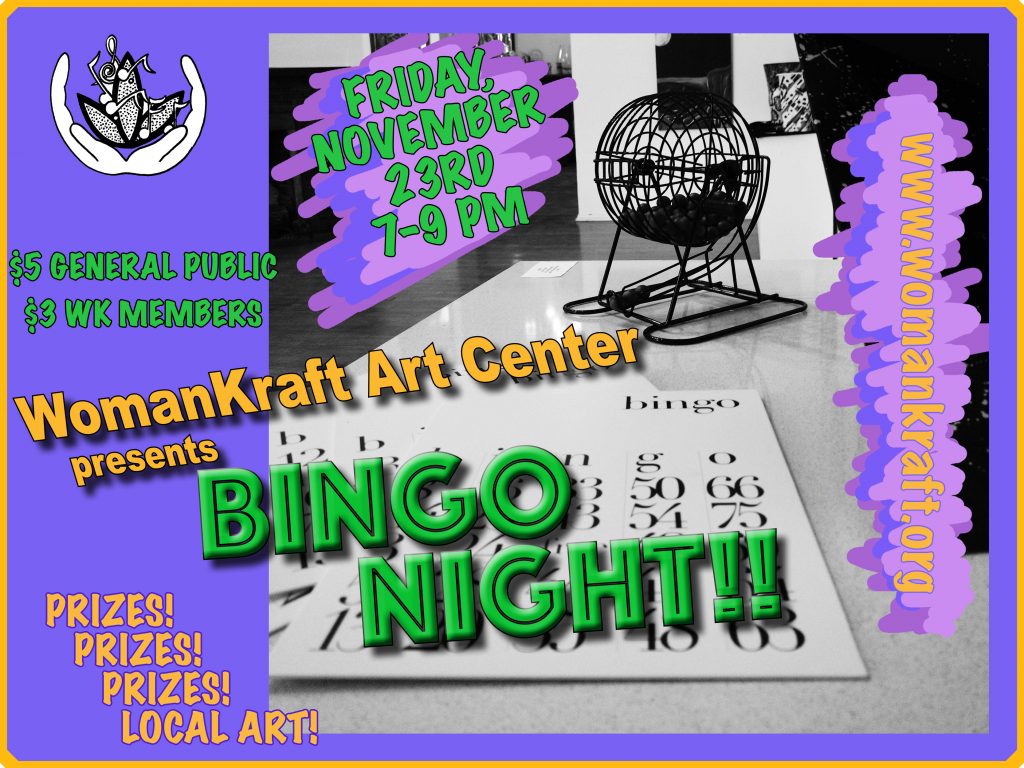 Thanksgiving is OVER and it's BINGO TIME!
Do you have plans for the day after Thanksgiving? Come to Bingo at WomanKraft!  Entry is $5 General public, $3 WomanKraft members
Friday, November 23rd 7:00 – 9:00pm.
With your entry price you get your 1st Bingo card. Additional cards are $1 each! Prizes include plants, art, delicious homemade treats… and more! Refreshments will be served.
Friday, November 23rd 7:00 – 9:00pm
388 S. Stone Ave. Tucson, AZ 85701
Green Friday, too!
We will continue WomanKraft's tradition of "Green Friday" this year. Join us the day after Thanksgiving on Friday, November 23rd, from 1-5 PM for a chance to support WomanKraft, local artists, and the Tucson Community Food Bank! If you bring 2 or more cans of non-perishable food, get 10% off your purchases here at WomanKraft! This includes all artwork sales, gift certificates, classes and workshops through the School of the Arts. Let's use this opportunity to support local and get some beautiful, one of a kind gifts and art for anyone on your list! 388 S. Stone Ave. Tucson, AZ 85701.