Join us in celebrating our divine feminine power.
Drawing Down the Muse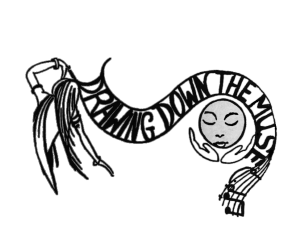 This weekend is our evening reception for the current exhibit, "Drawing Down the Muse". All artwork on display is by local female artists.
The work ranges greatly in color, media, theme and subject matter.
Please join us in honoring the women sharing their stunning work with us this weekend.
Crocheted Bottles by Zoe Rhyne
The Gallery is OPEN!
Saturday, May 4th, 7-10 PM
Our gallery will have regular weekly hours, Wednesday – Saturday from 1 to 5 pm.
Our reception will be exclusively this Saturday night, 7 to 10 pm.
"Drawing Down the Muse" Evening Reception
@ WomanKraft, downtown Tucson,  388 S. Stone Ave.
7 to 10 pm.
The artists will be present to talk about their work, refreshments will be served.
CALL TO ARTISTS
WomanKraft Art Center currently has a call out for artwork for the upcoming exhibit, "It's Raining Cat's and Dogs!"
June  1st- July 27th, 2019 with Receptions: June 1st and July 6th, 7-10 PM
This monsoon season, let love rain down, furry, feathery, leathery. This is an opportunity to showcase all the animals that share their love with us everyday. All mediums, featuring pets of all kinds accepted.
Please call (520) 629-9976 extension 3 to schedule an appointment with Director of Exhibits, Zoe Rhyne