Bingo Night in the Gallery!
Join us for an evening of BINGO fun in the beautiful gallery!
Entry is $5 General public, $3 WomanKraft members
Friday, September 29th,
7:00 – 9:00 pm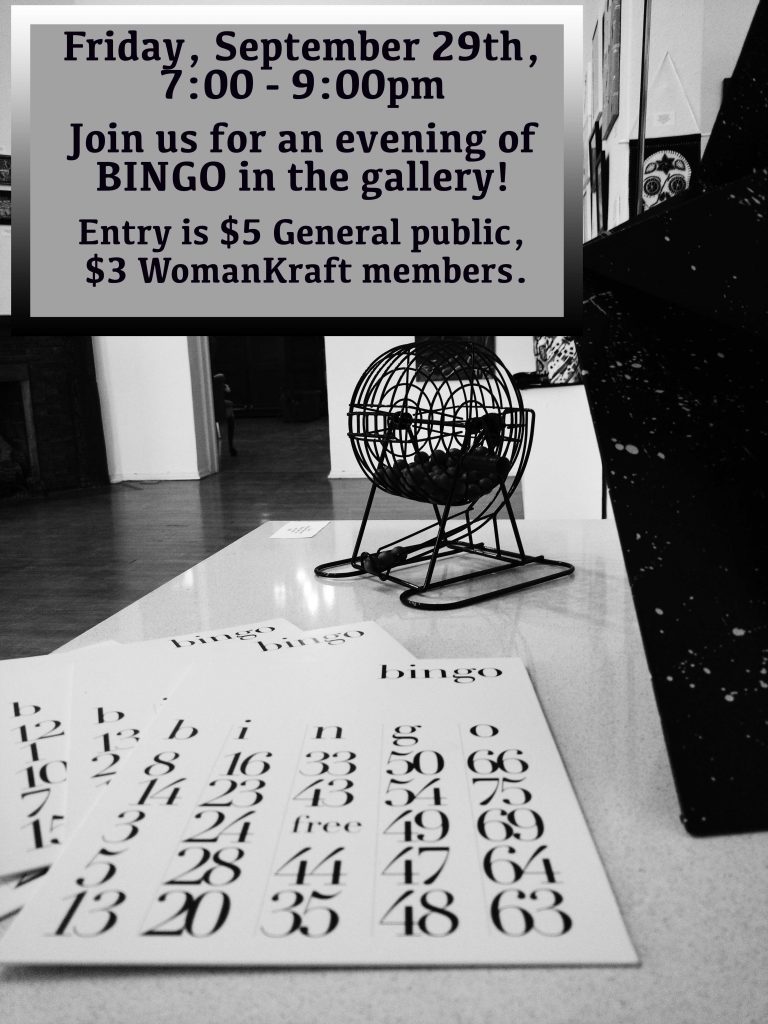 FALL is HERE and it's BINGO TIME!
With your entry price you get your 1st Bingo card.
Additional cards are $1 each!
We will be playing multiple rounds of bingo with multiple winners.
Prizes include plants, art, delicious homemade treats… and more!
Come try your luck, in a relaxed, fun and art-filled atmosphere.
Enjoy an evening where you can help support your favorite non-profit!
Refreshments will be served.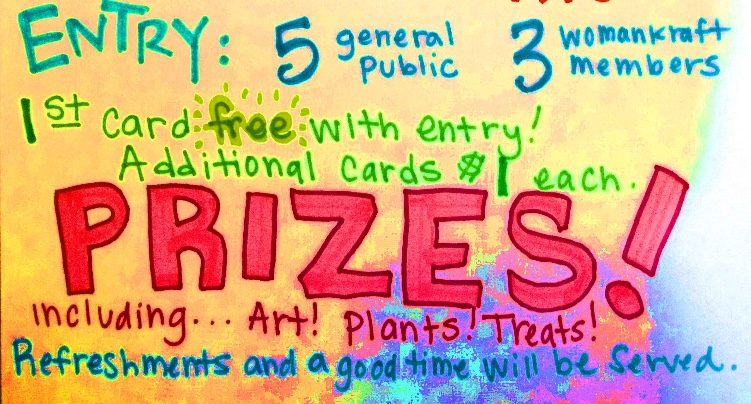 'SIZE Matters'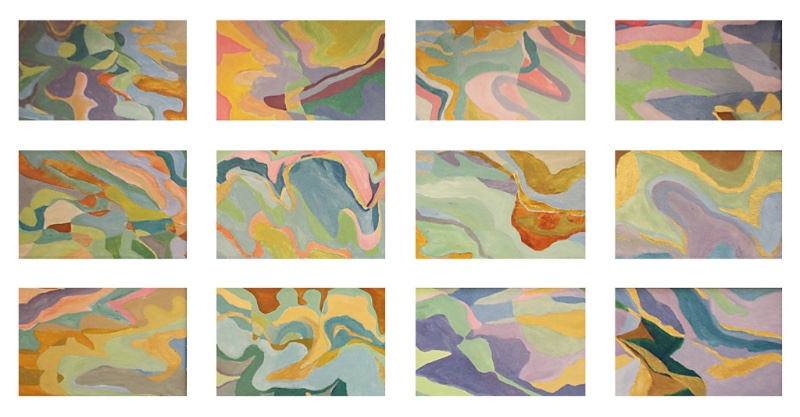 The current exhibit is open every Wednesday – Saturday
1-5 PM  Upcoming Reception Saturday, October 7, 7-10 PM
(above: Oil and Water Postcards by Kristen Gautier-Downes)
'Mini Muerte' by Tony Di Angelis
Oil Paintings by Linda Wallace
'Celestial Beings' Recycled Metal Sculpture by Josh Smith
During the reception for the current exhibit, 'SIZE Matters' on October 7th from 7-10 PM, a very special guest, James Aspromatis, will be indulging our ears and adding dimension to the atmosphere with music from a classic victrola!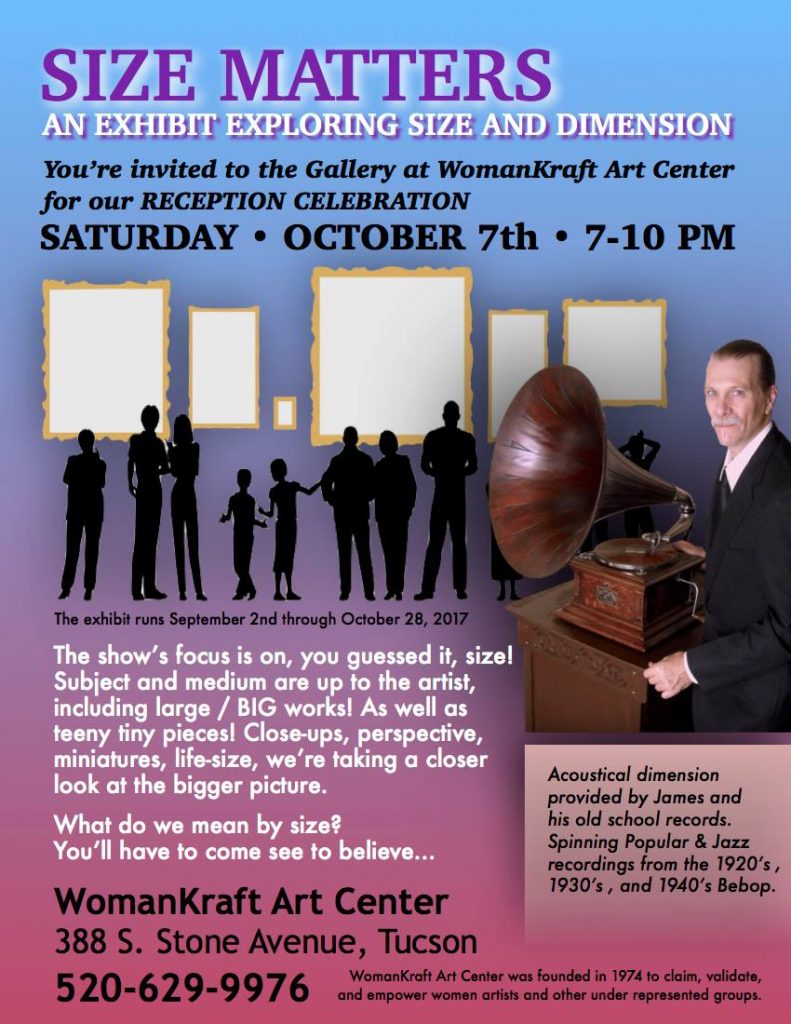 And also, a HUGE SIDE NOTE, WomanKraft has a brand new CALL TO ARTISTS OUT for local Tucson artists!!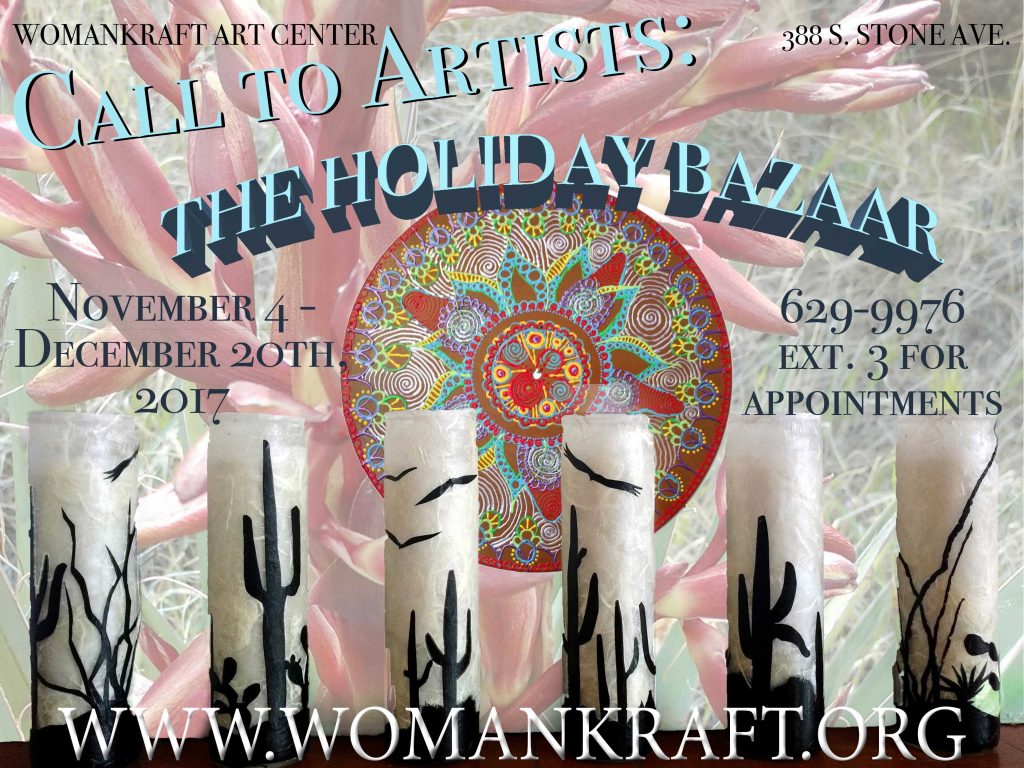 WomanKraft Art Center currently has a CALL TO ARTISTS for the upcoming exhibit, 'The Holiday Bazaar',
Show runs November 4 – December 20th, 2017.
*We are seeking a variety of fine crafts and art that reflect the diversity of these holidays. All work on display must retail from $1- $100. All mediums accepted. In the spirit of gift giving and sharing, we want an opportunity for locals and visitors alike to purchase original, unique work by local individuals for their seasonal gift giving desires and indulgences, at an affordable rate. Therefore, all work on display must retail between $1 and $100. All subject matter and mediums will be accepted.
WHEN: Deadline for submissions: October 21, 2017.
WHERE: WomanKraft Art Center, 388 S. Stone Ave. Tucson, Arizona 85701.
WHAT: Call to Artists for "The Holiday Bazaar" upcoming exhibit, featuring all original artwork for $100 or less
CONTACT: Please call (520) 629-9976 ext. 3 to schedule appointments with Director of Exhibits, Zoe Rhyne. PLEASE NOTE: October 21st will be the LAST day to make contact, and shows are filled by first to respond. Hence, get in touch, ASAP..