Please just WomanKraft on Saturday, June 29th from 7-9 PM
for an all new fundraising endeavor!
WomanKraft hosts a Silent Auction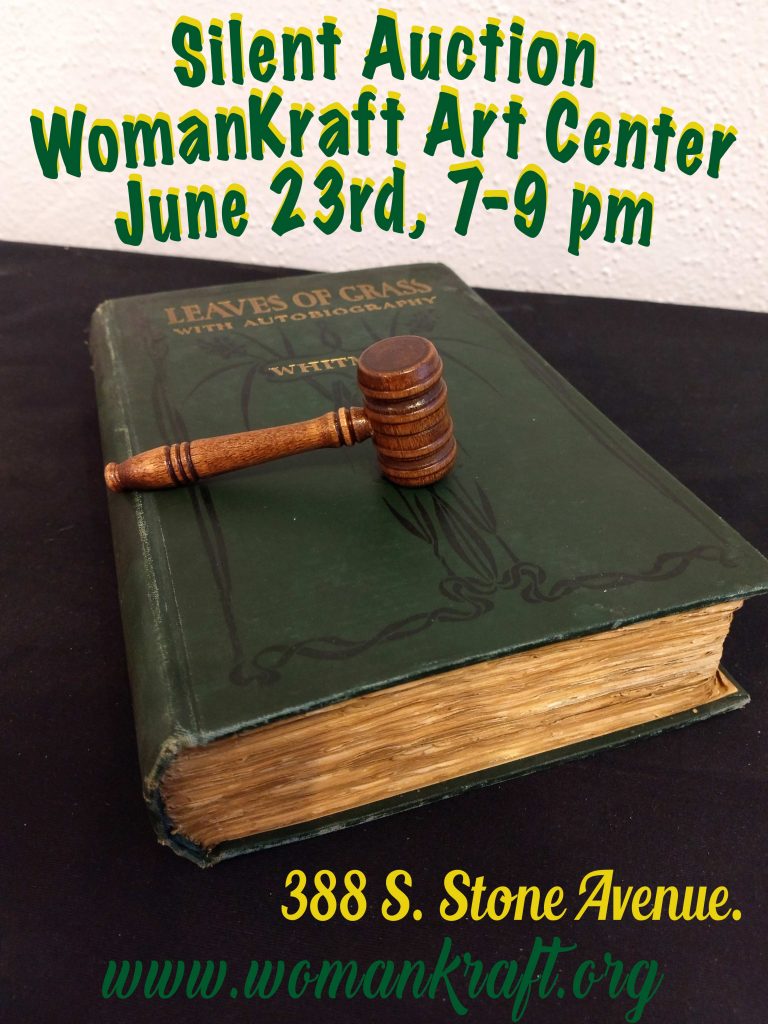 Please join us for an evening of socializing, art gazing, and bidding!
Many fine items will be up for auction, including:
-$125 gift basket of art supplies from Arizona Art Supply,
-Brand new full size easel from Arizona Art Supply,
-4 Guest Passes to Tohono Chul
-Plants from a Pima County Master Gardener,
-Signed first edition Barbara Kingsolver books, (High Tide in Tucson, Prodigal Summer )
-Walt Whitman's Leaves of Grass first edition also signed,
-Roamin' by Wiley Oakley (signed)
-Gift certificates to Sarnoff Art Supply ($25),
-Gift certificates for 7 free rentals at  Casa Video,
– Dichroic Art piece from Tucson Stained Glass,
-Couple's membership to The Loft Cinema,
-Goodies from The Gloo Factory print shop,
-Gift basket from The Food Conspiracy Co Op
-A Mug from Revolutionary Grounds Coffee Shop
-10 Class Punch Card from 4th Avenue Yoga
-2 Tickets to upcoming concert Jenni and the Mexicats at 191 Toole
-Gift Certificate to Antigone Books
-Dinner for two at Texas Roadhouse
-A Southwestern Home Bar (Donated by Board Member)
-Gift Certificate for 2 lanes and 2 hours at a Vantage Bowling Center
-A Purse by Laural Burch
-A Flintstones original Animation Cell
-Migratory Bird Stamp and corresponding original Watercolor for Federal Migratory Bird Artist Stamp Series
-Hand Painted Nesting Dolls Set
Don't miss this opportunity to enjoy art, support WomanKraft and maybe win something wonderful.
Refreshments and drinks will be served.
For more information feel free to call (520)629-9976 x 1 or stop on by the gallery Wednesday – Saturday from 1-5 PM.
388 S. Stone Ave. Tucson, AZ 85705