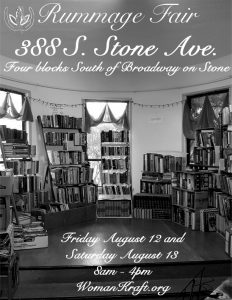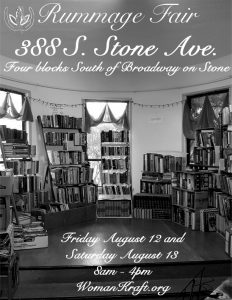 WomanKraft Art Center
RUMMAGE FAIR
Friday, August 12 & Saturday, August 13, 2016
Both days from 8:00 AM to 4:00 PM
388 S. Stone Ave. Tucson, AZ 85701 (520) 629-9976
WomanKraft Art Center is hosting a huge, 2 day, INDOOR RUMMAGE SALE!! Join us for great bargains for a great cause- all proceeds go towards our non-profit art center. The sale will be held inside and air-conditioned, spreading throughout our entire gallery space. This fundraiser is WomanKraft's largest event, and is exponentially exciting and important to the continued success of our nearly 100-year-old building and 42-year-old grassroots, 100% volunteer run organization!
WHERE: 388 south Stone Avenue – just 4 blocks south of 'city center', Broadway Blvd and Stone Avenue, on the West side of the street, directly across the street from Casa Vicente Spanish Restaurant
WHEN: Friday, August 12 & Saturday, August 13, 8 A.M.–4 P.M. NO EARLY BIRDS.
WHAT: Art supplies, kitchen utensils, small appliances, dishes, knick-knacks, art books, regular books, fancy clothes, normal clothes for men women and children, tools, hardware, toys, movies, garden stuff, plants, household items, all you can think of and more!
An excellent opportunity for you to volunteer some time at the WomanKraft Art Center!
We are looking for helpers for set up, Thursday, August 11, 10am until done, and then could really use some fresh help to re-pack and disassemble Saturday, August 13, 4 to 6pm. Please call 629-9976 ext. 1 to schedule your participation!
All items for sale are in good, clean and working condition.
After setting up and selling for 4 days, we really could use some fresh help boxing and loading everything; we start at 4:01 Saturday afternoon. Call or talk with us in person to schedule your participation. (520) 629-9976. Thanks!