ART FROM THE HEART
The current exhibit, Art From the Heart runs February 6 – March 26, 2016,
will be hosting a Second Evening Receptions this Saturday, March 5, form 7-10 pm
Love is in the air, spring is blossoming and hearts are brimming. Hearts and flowers, flames of passion, romance and
eroticism, beloved places, gifts of love… All is fair in Love and Art. All mediums.
Did you catch that?!
WomanKraft's newest exhibit, 'Art From the Heart' will be having a special evening reception just for you this Saturday the 5th, from 7 – 10 PM!
Here's a few shots from the show, after a huge turnout at our First Reception. Reception nights are SO much fun because you can meet and mingle with the local artists featured, and get out in the beautiful weather we're having. On the reception, one visitor said "You could feel the love, and it wasn't just the art!." Stop by the gallery weekly anytime Wednesday – Saturday between 1 and 5 PM to see the entire show, and believe us, it's not to be missed!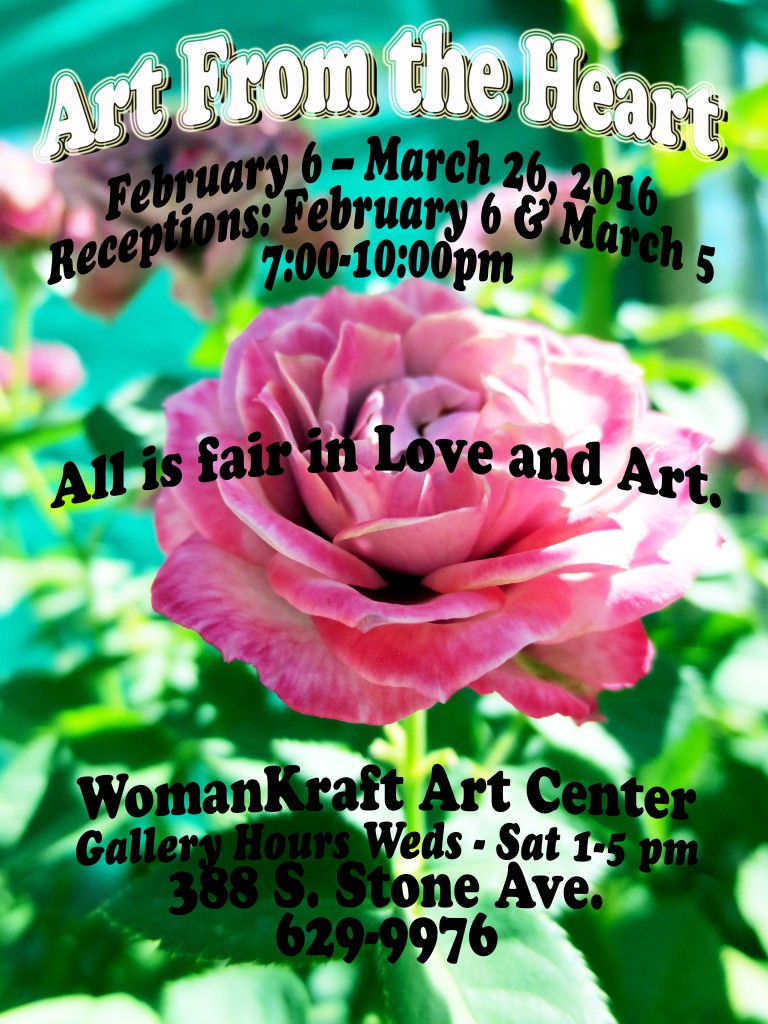 Join us for an Opening Reception Saturday, February 6th from 7:00 -10:00 P.M. at WomanKraft – 388 S. Stone Avenue. That's 4 blocks south of Broadway, the west side of the street with huge heirloom Tamarisk tree's lining our property. WomanKraft looks like this (view from Stone Avenue)!!