HEY, THERE'S AN EVENING RECEPTION @ WOMANKRAFT THIS SATURDAY!
THIS SATURDAY NIGHT, MAY 7TH FROM 7- 10 PM PLEASE JOIN US IN CELEBRATING THE TALENTED WOMEN OF OUR COMMUNITY.
388 S. STONE AVE!
Currently on display at the WomanKraft Art Gallery is our 24th Annual Women's Only Exhibit, featuring 34 local women artists residing in Tucson, Arizona, DRAWING DOWN THE MUSE.
Virgin Mandala Zoe Rhyne
Mountain View Cholla by Patty Lyons
Kitty Mosaic by Linda K
388 S. Stone Avenue
April 2 – May 28, 2016
2nd Reception Saturday, May 7, 7:00-10:00 P.M.
Regular Gallery Hours:
Wednesday Through Saturday 1:00-5:00 P.M.
This show includes all mediums, unrestricted in subject matter, and promotes the talented women of our community. Join us in celebrating this important and beautiful tradition, and our divine feminine power.
2 evening receptions will be held on the first Saturday of each month, April 2 and May 7th from 7:00-10:00 PM. We encourage everyone to see the exhibit. Free and open to the public.
THE CASTLE VOICE NEWSLETTER HAS ARRIVED!
THE CASTLE VOICE NEWSLETTER,
PRINTED EVERY 4 MONTHS IS ONE OF THE BEST WAYS TO LEARN ABOUT
THE WOMANKRAFT ART CENTER!
Inside the newsletter, you can find all of the upcoming classes and workshops held at the WomanKraft School of the Arts, as well as all of the upcoming gallery exhibits and calls to artists through July 2017!!
If you would like to receive this newsletter via snail mail as a hard copy, please call us and leave us a message with your address. (520) 629-9976.
The Castle Voice Newsletter May – August 2016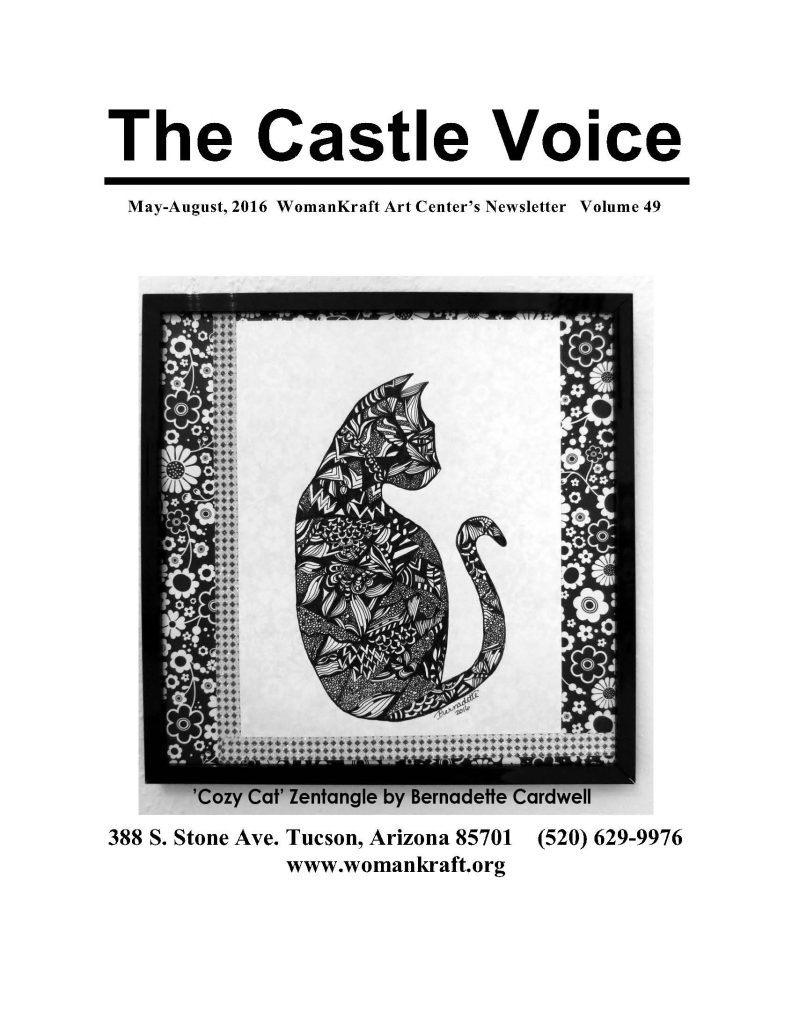 CALL TO ARTISTS
WomanKraft Art Center  presents STICKS AND STONES ARE NATURE'S BONES June 4 -July 30, 2016.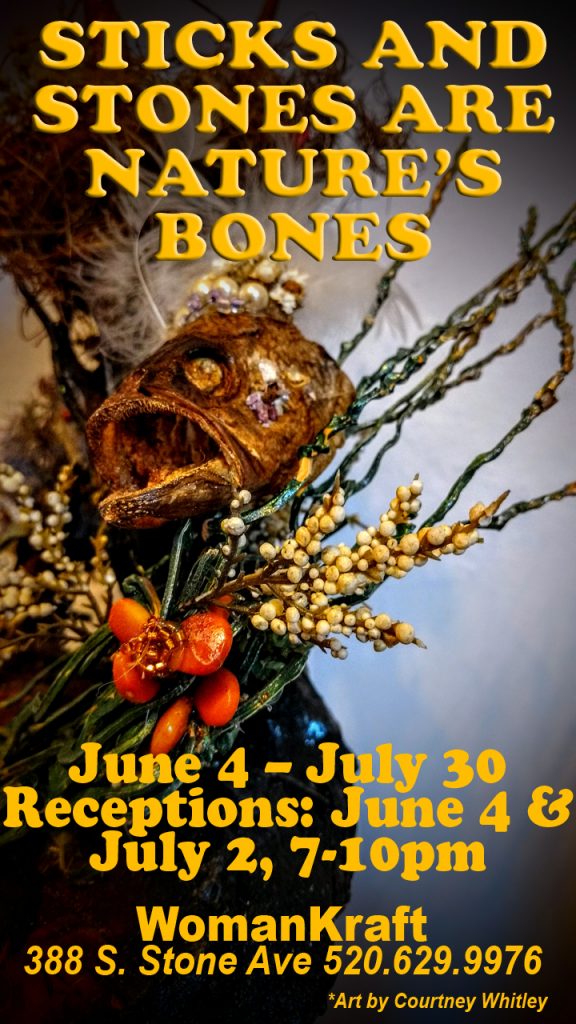 WomanKraft Art Center, (388 s. Stone Avenue) has a new Exhibit, STICKS AND STONES ARE NATURE'S BONES.
 Let's take a look and focus on the "bones" of nature, dead trees, dilapidated buildings and ruins, rock formation, skeletons, the beauty of stones themselves, Let's use our creativity to show that there is still life in these old bones. All mediums.
Call to Artists interested in exhibiting in STICKS AND STONES ARE NATURES BONES? Deadline For Submission: May 28, 2016. Call Director of Exhibits Zoe Rhyne at (520) 629-9976 ext. 3 to schedule an appointment.