Our Current Exhibit, Here Comes the Sun, has over 23 local artists exhibiting a variety of mediums in celebration on the arrival of spring. One of our new artists, showing work with us for the very first time, Miriam F. Vercillo, a crotchet artist, inspires many, including her daughter, a crotchet enthusiast. Check out the fantastic article about Miriam and her work at http://www.crochetconcupiscence.com/2015/02/my-mother-the-crochet-artist/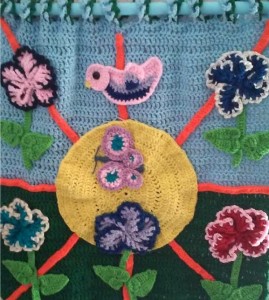 WomanKraft would like to say Thank you! to Kathryn Vercillo for mentioning us.
Haven't been in to catch the show yet? Here Comes the Sun is open to the public
Wednesday – Saturday 1:00-5 :00 P.M. at 388 S. Stone Avenue. An Evening Reception will be held
Saturday, March 7 from 7:00-10:00 PM.