Upcoming Events at WomanKraft
Board Meeting, Rummage Fair, and Call to Artists. Happy August!
Upcoming Events at WomanKraft
Board Meeting, Rummage Fair, and Call to Artists. Happy August!
The gallery only is closed in August, but all kinds of things will still be happening at WomanKraft. This includes classes and workshops!
Firstly, Board Members and interested individuals are invited to attend WomanKraft's BOARD MEETING this Saturday, August 8, 2015 from 10 AM to Noon. 388 S. Stone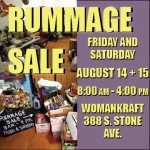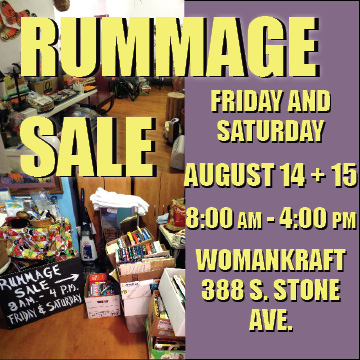 Next week, it is finally time for our
Bi-Annual Indoor (Air Conditioned of course) Rummage Fair

.

Join us FRIDAY AND SATURDAY AUGUST 14 AND 15 both days from  8:00 AM to 4:00 PM. 388 S. Stone Avenue. The greatest indoor sale of all time! We collect clean and working items all year round from our generous supporters. All proceeds will go towards important aspects of WomanKraft's sustainability. Come find great bargains and support a great organization!
Where: 388 south Stone Avenue – just 4 blocks south of Broadway
When: Friday and Saturday, August 14 and 15, 8 A.M.–4 P.M. NO EARLY BIRDS.
What: Art supplies, kitchen stuff, nick-knacks, books, clothes, tools, toys, movies, all you can think of and more! We are also seeking volunteers for set up Wednesday, August 12 from 1-5 PM and Thursday, August 13, 10 AM until it's done.

After setting up and selling for 4 days, we really could use some fresh help boxing and loading everything, we start at 4:01 Saturday afternoon. Call or talk with us in person to schedule your participation. (520) 629-9976. Thanks!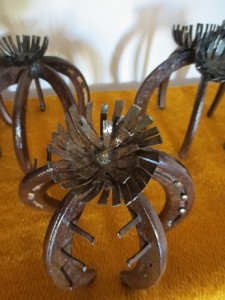 CALL TO ARTISTS:
Recycling with Purpose
September 5 – October 24, 2015
This show will highlight the versatility of re-purposing, up-cycling, and re-furbishing. Functional and fine art accepted, get creative and go green!
Deadline for submissions: August 22, 2015 call Director of Exhibits Zoe Rhyne at 629-9976 ext. 3 to schedule and appointment.

STUDIO 102 FOR RENT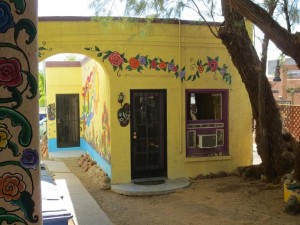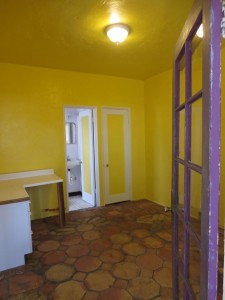 $250 A month, this is a ground level charmer, private entrance, complete with closet space, personal bathroom and shower.
$250 a month, first and last month due at time of signing contract. 24 hour access,
NOT a live-in space.
Utilities included, smoke-free.
Call (520) 629-9976 for more information