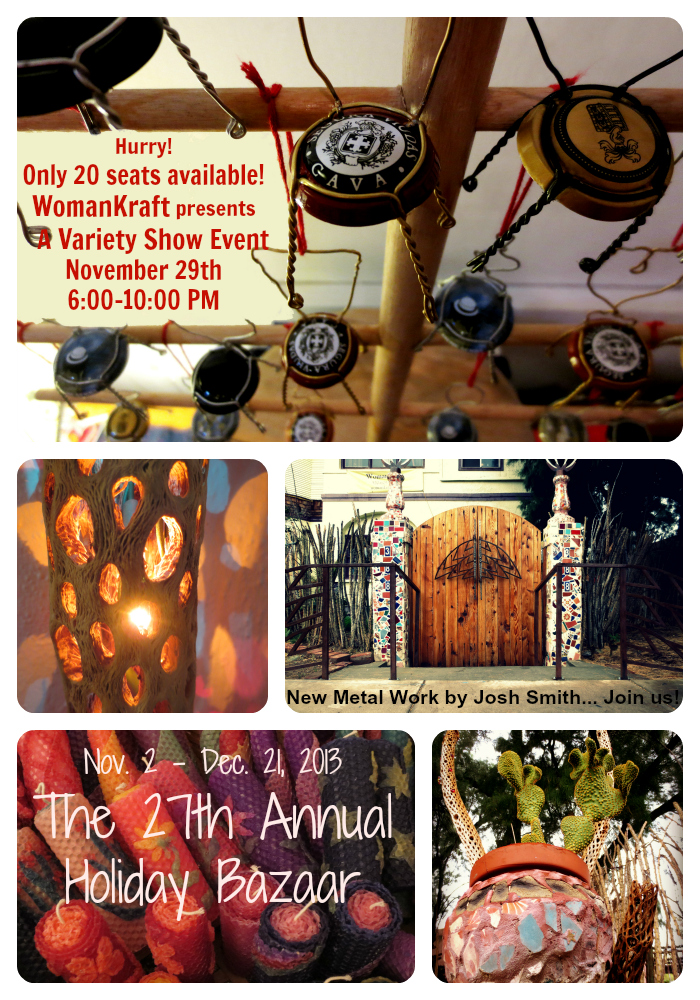 First of all, WomanKraft will be closed Saturday, November 23rd for Tour de Tucson. Enjoy.
The Friday after Thanksgiving will be a busy day at WomanKraft, 388 S. Stone.
First, support your local business the day after Thanksgiving. Bring two or more items of non-perishable food for the Tucson Community Food Bank and take 10% off your entire purchase, including workshops. In one visit, you support your local artists, your local nonprofit arts organization and your local food bank.
In the evening, from 6 to 10 p.m., we change gears and go into VARIETY mode. For the small sum of $20, you get
– drinks,
– a wonderful dinner of vegetarian Thai spring rolls, Thai peanut soup and delicious homemade desserts,
– entertainment: Tango by Charly and Joni, Improv Dance by Grace Rhyne, Songs by Terri McGuire, Performance by Zoe Rhyne and Poetry by Becky P.
Only 20 tickets are available, so a reservation and pre-payment are required.
To make your reservation, please call 629-9976 Wednesday – Saturday, between 1 and 5 p.m.
And don't forget!
The Second Reception for
The 27th Annual Holiday Bazaar will be
Saturday, December 7th from 7:00-10:00 PM. Don't miss it!