Visit from the Desert Crones!
With the opening of our 25th annual 'Drawing Down the Muse' Exhibit, WomanKraft received a visit from 9 inspiring members of Tucson's Desert Crones Society of Women. The Desert Crones of Tucson are women age 50 and older who celebrate their "croneness" by gathering weekly to enjoy speakers, drumming, writing, crafts, hobbies, chats, and each other's uniqueness and support.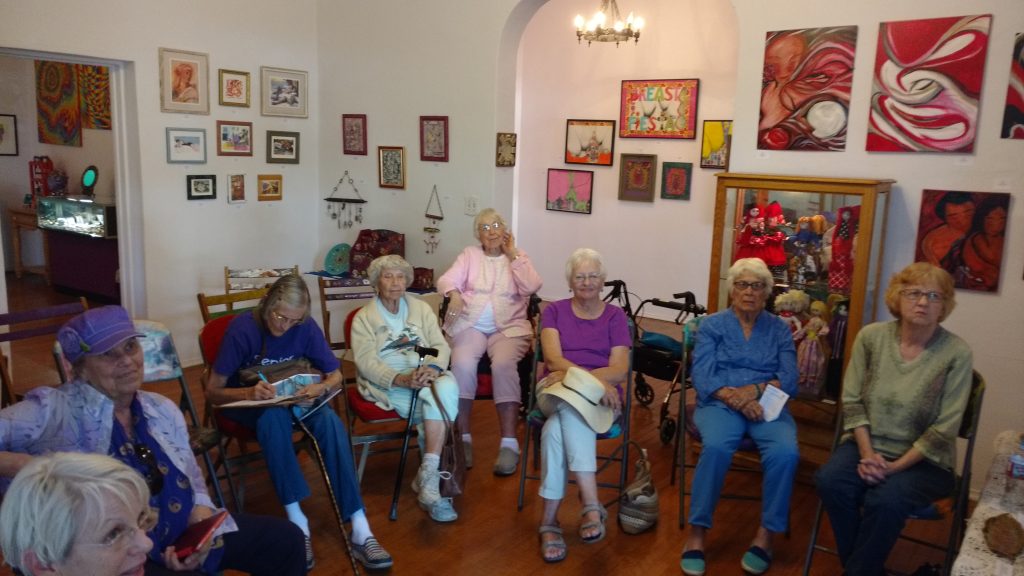 One of our students, Bonnie Powers, (far right) a member of the Crones herself, organized the outing. The women were excited to look around and enjoy the beautiful and varied art made by some of the talented women in the Tucson community. After we had perused the gallery for a while, chairs were gathered and Zoe used the natural acoustics of our intimate stage in the "turret" to speak about WomanKraft.
Her presentation highlighted why WomanKraft is so special and important to Tucson, and included opportunities the Crones might take advantage of themselves, including exhibiting artwork and taking classes. Questions and answers followed, and we all wandered around and enjoyed art, several women purchasing artwork to take home!
Seeing these women, (three of them in their 90's!) enjoying life so thoroughly, still seeking new experiences and knowledge, was truly inspiring. We hope the Desert Crones enjoyed visiting us as much as we enjoyed having the special visit. WomanKraft looks forward to future meetings and collaborations with these women. For more information on the Desert Crones of Tucson please Google and enjoy them as well at: http://www.orgsites.com/az/desertcrones/