THE JANUARY RUMMAGE FAIR!! Are you ready for bargains?!

The January Rummage Fair will be held Friday, January 15 and Saturday, January 16, 2016 both from 8am to 4pm.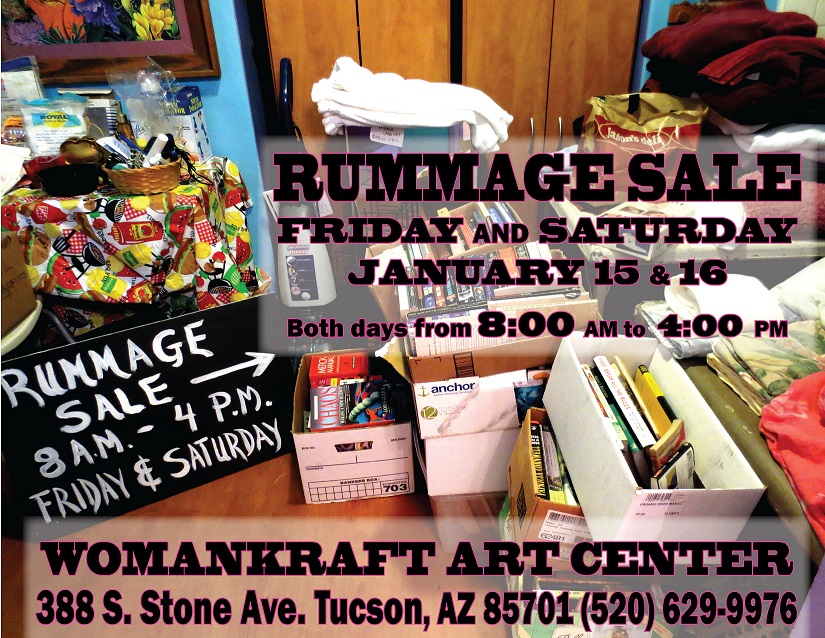 WHERE: 388 south Stone Avenue – just 4 blocks south of Broadway. In our spacious gallery, ground floor and indoors!
WHEN: Friday, January 15 & Saturday, January 16, 8:00 A.M.– 4:00 P.M.
WHAT: Art supplies, kitchen stuff, knick-knacks, books, clothes, tools, toys, movies, garden stuff, plants, household items, all you can think of and more! All items for sale are in good, clean and working condition. NO EARLY BIRDS.
After setting up and selling for 4 days, we really could use some fresh help boxing and loading everything; we start at 4:01 in the afternoon, Saturday January 16th. Call or talk with us in person to schedule your participation. (520) 629-9976. Thanks!
We can't tell you exactly what is going to be there, but we can tell you that all items for sale are in good, clean and working condition. All proceeds will go to maintenance and upkeep of our non-profit art center.
ALSO IN JANUARY…
CALL TO ARTISTS…' ART FROM THE HEART '
Show runs February 6 – March 26, 2016, with Evening Receptions: February 6 and March 5, 7-10pm
Love is in the air, spring is blossoming and hearts are brimming. Hearts and flowers, flames of passion, romance and
eroticism, beloved places, gifts of love… All is fair in Love and Art. All mediums accepted.
Deadline for submissions: January 30, 2016
Are you an artist interested in exhibiting with WomanKraft? Call 629-9976 ext. 3 for appointments
with Director of Exhibits, Zoe Rhyne or to speak to her in person call Thursday or Friday 1-5pm.
Artists please note: Shows are filled from first to respond. Deadlines indicated the last day works
will be viewed, not the first. Hence, make contact A.S.A.P.