Speak The Speech Theatre Company will produce Bernard Pomerance's play
The Elephant Man directed by Dan Reichel.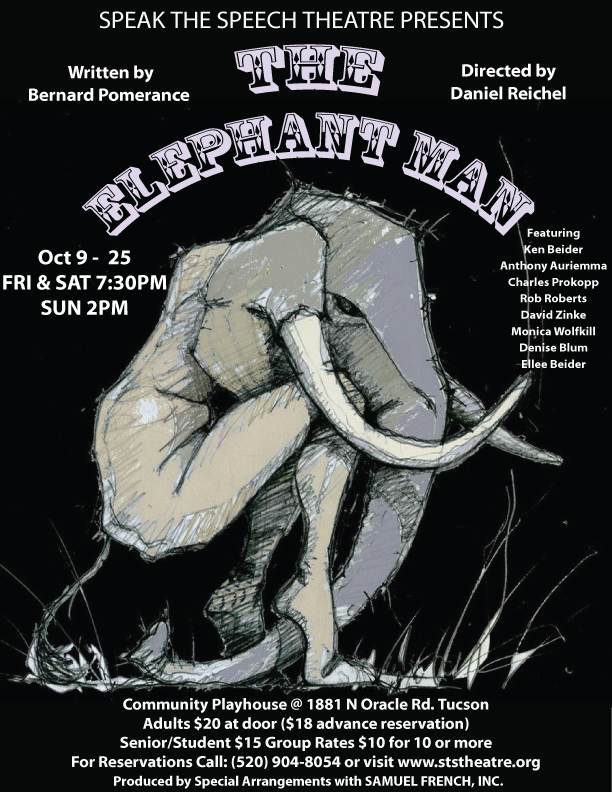 The performances will be held at
The Community Playhouse located at
1881 N Oracle Rd. Tucson, AZ October 9-25 weekends only.
Regular performances are: Friday and Saturday evenings at 7:30PM, and Sundays at 2:00PM,
Regular ticket prices are $18 (advanced reservation) $20 adult, $15 Sr./Mil./Stu. $10 Group Sale (10 or more).
For more information or ticket sales call: Paul Brunelle at (520)-904-8054 or visit us on the web at www.ststheatre.org
Last show, October 25, there will be a special benefit performance for Speak The Speech Theatre Company. 2 tickets for $100. Champagne, wine and hors d'oeuvres will be served.
The Elephant Man tells the story of a 19th-century British man John Merrick whose severe disfigurement made him a star of the traveling freak show circuit. When Dr. Treves takes Merrick under his care at the London Hospital, he discovers that beneath this shocking exterior lies a brilliant mind and an unshakable faith. But with his new life comes new complexity… and as Merrick's condition grows more severe, a 'normal' life begins to seem impossible.
WomanKraft will be attending the performance as a group on October 18.
Call WomanKraft at (520) 629-9976 if you would like join us.
And, later, in November, a new Feminist Theatre Collaborative, SheworXX presents
Gnawing the Bone" Re-Fleshing Myth and Tale from a Feminist Perspective
Women's Voices Take the Stage SheworXX presents
Gnawing the Bone: Re-Fleshing Myth and Tale from a Feminist Perspective
November 12 – 15
YWCA Southern Arizona – 525 N Bonita Ave Tucson, AZ 85745
7:30pm Thursday Nov 12, Friday Nov 13, and Saturday Nov 14 6:30pm Sunday Nov 15
Tickets $18 / students & artists $15
Gnawing the Bone does for theatre what speed dating does for romance by allowing the audience to move set-to-set, across the entire campus of the YWCA, seeing seven short plays each in a unique setting. Written by sheworXX members, it is directed by Esther Almazan, conceived/designed by Eugenia Woods, and features the works of Klara Wojtkowska, Eugenia Woods, Germaine Shames, Milta Ortiz, Kim Lowry, Catfish Baruni, Shel Chapman, and Esther Almazan. Plays contain mature content intended for adult audiences.
sheworXX Mission Statement: SheworXX is an evolving community of Tucson-based theater makers—playwrights, directors, actors, dramaturgs, designers and others—building gender parity in theater locally and globally through community engagement, mentoring, peer education, and the production of works by female-identified and feminist playwrights. For more information and general inquiries, contact Pam Burris at (520) 207-4478 or pamwriter8@gmail.com. Visit the sheworXX website at https://sites.google.com/site/sheworXX/ for information on purchasing tickets, membership, workshops or making a tax-deductible donation.